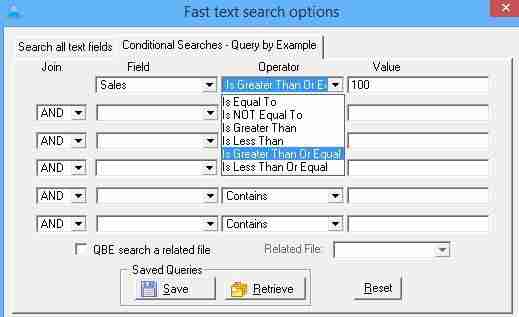 "Is AND/OR Searching A Pain?
Let The SearchFlash Template
Take The Strain!"
Combines a text search on ALL fields
in ALL File Formats (except SQL) with a QBE search!
SearchFlash Template Version 3.0
Clarion C8, C9,C10 & C11  compatible – ABC & Legacy template versions
Search on all text fields and/or do QBE searches – so there is no need to know in advance which fields you must search on!
Works with ALL File Formats supported by Clarion
Searches can be started from the start of the file or from the currently highlighted record
End user option to search related child files – text and QBE searches
When a match is found the user can display the identifying field of the record and a partial text string of the match.
You can also tag the record for later processing.
Tags can be stored in a separate file or in a tag field in the searched file or in a global memory queue.
Tags can be appended to existing tags or overwrite them
QBE queries can be saved
Favorite tag collections can also be saved.
Conditions can be set by the developer- these will then be added on to every QBE string.
Manual editing of the QBE search string by the user – allows use of AGE(), CLOCK() etc.
Popup Menu – control the description for the browse popup menu
At the end of a search is displayed a total of matches found plus total records tagged. With the option to browse the tagged records. A "Tagged Records" check box is placed on the browse.
A set of tagging button controls – Tag All, Untag All, Tag/Untag
Templates for Processes and Reports – so you can easily use your selected records elsewhere in the application.
Template for batch copying of records to another file – with the option of deleting records in source file.
Four demo .APPs are supplied to make it easy to see how SearchFlash works
Compatible with List & Labels Reports
All source code supplied.No black boxes. No royalties.
 Multi-language support – English, German, Spanish, Arabic, Dutch, Norwegian & Danish
SearchFlash Template is compatible with Clarion versions C8 to  C11 – ABC & Legacy
All this for just $149!
Purchase with Confidence – all products are covered by our 60-day return policy
NO annual subscription charge!

SearchFlash Template Demo
Clarion Magazine Review gives SearchFlash Template top marks for Value, Features and Support. Searchflash is a big hit with the customers! The product works beautifully I'm very happy with the Searchflash templates. Nice job! It is a plus having full text search and another positive is that the .app doesn't have to be compiled in standalone mode Thanks for a template set that permits me to shuffle the screens as I wish for my own look and feel
Other Sources:
More about Clarion: https://en.wikipedia.org/wiki/Clarion_(programming_language)
Developer of the Clarion system: http://www.softvelocity.com/clarion.html
To get notified of new videos please subscribe: https://sterlingdata.com/subscribeYouTube
Our Facebook page is: https://www.facebook.com/sterlingdatatemplates/